Colibri Spice Blend | Premium | Chile y Limon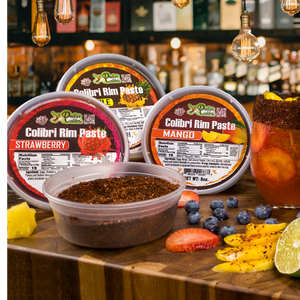 Individual Tub Size: 5 oz
Type: Dry Spice Blend
Spicy Level: MILD
PREMIUM SPICE BLEND!!
Just like all of our other products, our Colibri Spice Blend was created with quality in mind. Top quality chili peppers get their seeds & stems removed and then proceed to be grounded to a perfect size. Finer than crushed peppers but careful not to reach powder form. We then add some salt and lime flavor to reach a perfect balance between spiciness, saltines, and lime flavor. Ideal complement for our Colibri Rim Pastes.
RIGHT AMOUNT OF SPICINESS
Our Colibri spice blend is not intended to be spicy. In fact we remove the seeds to make sure that you get that traditional Mexican seasoning taste that can be used in Micheladas, cocktails, mocktails, kombucha and your favorite fruits. If you wish to bring up the heat, we recommend adding Cayenne pepper, Chile de arbol or your favorite spicy pepper to our spice blend as you see it fit.