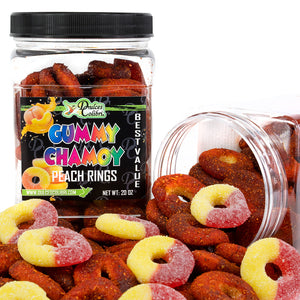 Individual Package Size: 20 oz
GUMMY CHAMOY
Gummy Chamoy came to be because throughout all of our years of experience, we noticed that everything tastes better when coated with chamoy. Gummies are no exception! The combination of the sweet fruity gummy flavors with our chamoy flavored spice blend complement each other perfectly. Our Gummy Chamoy is made in small batches and hand crafted every step of the way.
SPICY LEVEL: Medium Spicy
Part of our BEST VALUE PRODUCT LINE
We pride ourselves in our unrivaled top quality and another very important requirement for us is to make sure that our candies are affordable to everyone. This is why we decided to create a product line that is made with the highest possible quality ingredients, and sold at the lowest possible price. In other words, Great taste without breaking the bank!
CONVENIENT INDIVIDUAL PACKS
We know that sharing is caring, however we also know that we all enjoy our food differently. Our packaging is moisture proof to keep your candy fresh and ready for when those cravings hit. They are also resealable so you can save them for later once you've already opened them.
ON THE GO LIFESTYLE
Our products were made with the "ON THE GO" lifestyle in mind. We live in an ever so busy world where we are always in the middle of doing something and moments for personal care don't come very often. Our individually sized packs fit perfectly in your glove compartment, tote bag, backpack or purse so whether you're stuck in traffic, in the bus on your way to work, on a 5 minute office break or on your way back home from the gym, our individual packs are always ready to satisfy those cravings.
MESS FREE
There is no point to having versatile on the go packaging if you are going to end up with a sticky hand getting glued to whatever you touch. This is why we package all of our products with a mess free experience in mind. Sure, you might end up with a bit of chili on your finger, but thats nothing that a good o'lick cant fix!