Pina Pica-Chamoy | Very Spicy! | Premium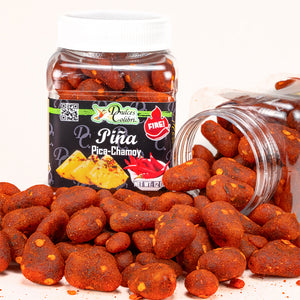 How about some real Pineapple chunks coated in our signature chamoy flavored spice blend & topped off with a hefty amount of crushed peppers to upgrade the spicy level to FIRE! Our Pina Pica-Chamoy if rated Mexican Spicy ;)
Craving for...
... something sweet, sour and spicy at the same time?
... maybe something more on the spicy side?
... low calorie little treats?
... soft and chewy fruit slices?
... delicious pineapple all day long?
No more cravings! No more cravings! Grab your Pina Pica-Chamoy jar and enjoy rich pineapple flavors on the spot!
Now you have everything you need from a pineapple in the form of delicious pineapple candy!
Fresh, Delicious & Soft Dehydrated Pineapple Chunks Candy For All!
Nobody can say no to delicious candy, right? What about combining candy and fruit? That sounds far more interesting...
Our fresh pineapple chunks combine the natural elements of a pineapple fruit and the perkiness of a candy! Keep jar in your tote bag, car, or backpack, and enjoy it any time you want.
Ideal for work, traveling, strolls in the park, open air festivals, music concerts, beach excursions, camping, fishing, hunting, commuting to work, office meetings, birthday parties, college life, shops and convenient stores, and quick desserts on the go!
100% Handmade & All Natural Pineapple Candy Bites!
Do not compromise with anything else than perfection when picking your party snacks and dehydrated fruit.
Try our Pina Pica-Chamoy today! Our artisan made Pina Pica-Chamoy is made of high-quality Pineapple fruit and is packaged in moisture resistant jars to lock freshness inside!
What are you waiting for?
Scroll Up & Click Add To Cart Now!