Pineapple Rim Paste | Perfect Consistency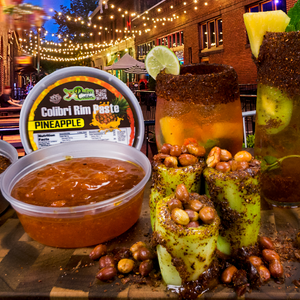 Individual Tub Size: 8 oz
Flavor: Pineapple
Cup Yield per rim paste container: About 25
UPGRADE YOUR DRINK!!
Just like all of our other products, our Rim Pastes were created with quality in mind. The right flavor coupled with the right taste can really upgrade your drink experience. Perfect for cocktails, mocktails, micheladas, aguas frescas, beer & energy drinks. Pair it with our Colibri Spice Blend for best results and to achieve that perfect look for Instagram to make your friends drool.
NOT TOO HARD, NOT TOO SOFT
When trying to relax & chill, the last thing you want is to deal with unexpected setbacks like a rim paste that's too hard and impossible to apply to your glass or too soft that by the time you are ready to take a sip the rim paste has already dripped down to the table. We know your free time is limited and we want you to spend it enjoying yourself. That's why we've created a rim paste consistency that's as hassle free as possible. For best results we recommend that you store our rim pastes in a place away from hot temperatures. No need to refrigerate.
THE SKY'S THE LIMIT
Just like we've found out that everything tastes better with chamoy, everyone is finding out that all drinks taste better when rim paste is added to the equation... a good rim paste, that is. You are not limited to only alcoholic beverages!. A rim paste can also enhance your drinking experience when drinking mocktails, aguas frescas, energy drinks and whatever else you can think of. In fact, you can even use our rim paste as a dip for your favorite fruits and top it off with our Colibri Spice Blend. It'll taste as good as if you had bought it from the frutero guy :)
Part of our  BEST VALUE PRODUCT LINE
We pride ourselves in our unrivaled top quality and another very important requirement for us is to make sure that our candies are affordable to everyone. This is why we decided to create a product line that is made with the highest possible quality ingredients, and sold at the lowest possible price. In other words, Great taste without breaking the bank!