Tequila Flavored Pistachios | Premium | Contains no Alcohol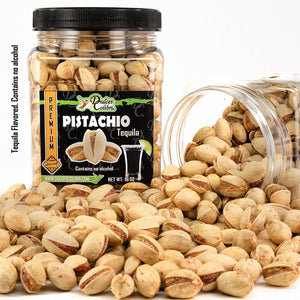 Jar Size: 16 oz (1 lb)
Pistachios by themselves are already a delicious treat, but like the Mexican candy company that we are we just couldn't resist giving them that Mexican finishing touch. We start off with top quality California pistachios and we coat them in our must-have Mexican flavors:
Jalapeño - Green - Spicy Level: Mild

Chili Lemon - Red - Spicy Level: Medium Spicy
Habanero - Orange - Spicy Level: Spicy
Sal y Limón - Yellow - Spicy Level: No spices added
Tequila - Natural Color - Spicy Level: No spices added
       - Yes, you read right. We coat pistachios with actual tequila. But don't worry, we assure you that you wont get tipsy, as we remove all alcohol. Tequila taste with no black-outs!
One thing we must emphasize is that we don't just sprinkle our pistachios with flavors, we completely coat them... so expect your tastebuds to be flooded with intense flavors. 

HOW DO YOU EAT OUR PISTACHIO FIESTA MIX?

To fully enjoy all flavors, place a pistachio with shell into your mouth and let the flavors engulf your taste buds. Once all flavors have been consumed, remove pistachio from your mouth, remove the shell and enjoy!
 PREMIUM
Our premium product line cuts no corners when it comes to fresh & high-quality ingredients. Our priorities are QUALITY, QUALITY & QUALITY. We start off with premium California pistachios and we then coat them in one of our several flavors. All the spices used are the highest quality available on the market and we make sure that the flavor is bold like an Authentic Mexican snack should be.
FAMILY SIZE 
At 16 ounces per jar, it is the perfect size to share with family & friends. Our pistachios are packaged to guarantee freshness for at least 6 months, so if you want them all to yourself, you can remain calm... your pistachios will remain fresh so there is no need to rush through the entire jar all at once ;) Bring it to your next family reunion or work event and let everyone know what Authentic Mexican snacks taste like.
ON THE GO LIFESTYLE
Our products were made with the "ON THE GO" lifestyle in mind. We live in an ever so busy world where we are always in the middle of doing something and moments for personal care don't come very often. Our individually sized packs fit perfectly in your glove compartment, tote bag, backpack or purse so whether you're stuck in traffic, in the bus on your way to work, on a 5 minute office break or on your way back home from the gym, our individual packs are always ready to satisfy those cravings.
MESS FREE
There is no point to having versatile on the go packaging if you are going to end up with a sticky hand getting glued to whatever you touch. This is why we package all of our products with a mess free experience in mind. Sure, you might end up with a bit of chili on your finger, but thats nothing that a good o'lick cant fix!